Karlsruhe, August 24, 2023. Our Stackable Data Platform is now available as a Managed Stackable Data Platform in the IONOS Cloud. Our proven open source Big Data components can now be used even more easily to run high-performance and scalable data lakehouses, data meshes, event streaming applications, machine learning and artificial intelligence environments.
Customers retain full digital sovereignty because the Stackable Data Platform is 100% open source and the data is 100% stored and processed in certified European data centres. This combination, unique in Europe, effectively avoids vendor lock-in and unwanted data access.
The Managed Stackable Data Platform runs on IONOS Cloud Managed Kubernetes, and the low-cost IONOS S3 Object Storage in particular is available as storage for mass data in addition to the NoSQL databases Apache HBase and Apache Druid. Of course, integration with the managed databases from IONOS is also possible.
With the launch, customers have the opportunity to conveniently access this offer via the IONOS online portal and to configure their individual data products with the help of the Managed Stackable Data Platform. The management and operation of the infrastructure is taken over by IONOS. Stackable also offers additional support and consulting on the various open source big data components.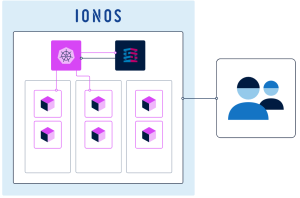 IONOS Head of Products, Patrick Schaudel states: "Managing a distributed Big Data infrastructure can be complex and time-consuming. Only when the individual tools mesh with each other can complex use cases be effectively represented. IONOS takes care of tasks such as cluster provisioning, configuration and monitoring, as well as patch and update management. This frees up time and resources so that our customer can fully concentrate on data analysis."
IONOS and Stackable cooperate closely
Since the foundation of Stackable, we have had a close strategic partnership with IONOS. We share a common commitment to digital sovereignty and open source. The cooperation with the IT infrastructure specialists ideally complements Stackable's big data expertise: IONOS stands for future-oriented cloud and IaaS solutions and offers high-quality solutions for the individual business case with an expertise of more than 20 years – together with Stackable now also for modern data management and big data analyses.
More information about the Managed Stackable Data Platform is available here.